Sierra Repertory Theatre is thrilled to offer SRT in Schools to Tuolumne County. The program is designed to bring professional theatre to the area's schools absolutely free of charge. These touring productions are adaptable to perform in multipurpose rooms, gymnasiums, libraries, or auditoriums and post-performance discussions with the actors are offered after every performance.
2021 Streaming Productions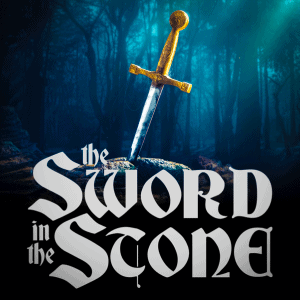 The Sword in the Stone, by Kathryn Schultz Miller, tells the story of Merlin and the lessons he imparts to a young King Arthur, who quickly learns that the world is full of magic if one knows how to look for it. The Sword in the Stone is recommended for all ages.
This title will be available from January 2021.
Sponsored by Mary Stuart Rogers Foundation, Sonora Area Foundation and the California Arts Council.
2022 Touring Productions

Peter Rabbit, by Bob and Rosemarie Gerould, based on the tale by Beatrix Potter, follows a mischievous and disobedient young Peter Rabbit as he gets into, and is chased about, the garden of Farmer Mac. Through his misadventures, he learns the value and the power of his friendships with RK Opossum and Charlene Skunk. Peter Rabbit is recommended for k-6th grade children.
This title will be available in 2022. To schedule a performance of Peter Rabbit for your school, call (209) 532-0502 ext. 105.
Pictured: SRT in School's The Commedia Cinderella (2019).