To present live professional theatre of the highest quality, making a vibrant contribution to our Region's economy, arts, and culture.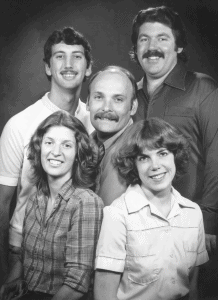 The five founders of Sierra Rep, David and Kathryn Kahn, Doug Brennan, and Sara and Dennis Jones, met at the Fallon House Theatre while doing summer stock performances with the University of Pacific drama program. As the five worked on sets, costumes and sat together talking late into the night, the idea of Sierra Rep was planted and nurtured. Their dream was to establish a professional performing arts center in this rural setting, and to draw both professional artists and audiences by the level of art created here.
They first converted a tin warehouse into a rustic 99-seat theater in East Sonora. Over 30 years later, their shoestring venture has blossomed into a professional arts organization impressive for a rural area. Sierra Rep consistently earns ovations from audiences and the press, and top ratings for artistic and management excellence from the California Arts Council and the National Endowment for the Arts. Returning to its roots, Sierra Rep was selected as the resident theater company at the Historic Fallon House in June of 1997, and the company's first production on the Historic Fallon House stage was Something's Afoot, which opened in October of that year.
Sierra Rep now presents Main Stage shows, Cabarets and student workshop productions in two locations – the original East Sonora Theatre and the Historic Fallon House Theatre in Columbia State Historic Park. We have a staff of 25, employ more than 100 artists per year, and hold a contract with Actors' Equity Association. Our actors play to 45,000 patrons each year, 60 percent of whom travel an hour or more to attend our shows. We provide a year-round draw for visitors and make our community a more vibrant place to live, and we enjoy strong community support with 1,500 season subscribers, more than 500 donors and hundreds of volunteers who help our professional artists and staff with sets, costumes, box office work and special events. To keep theatre accessible to our entire community, we offer student and senior discounts, group rates, and low-cost tickets for school groups. We also offer free professional touring productions to schools in our county, a thriving education program, and hold benefit previews and special events that raise thousands of dollars for community and educational groups.